Sales engagement tools have become one of the crucial tools in the sales tech stack of many firms. Buyers today are grappling with information overload. Notwithstanding, they are well-informed, research-driven, and have lofty expectations. So salespeople should be armed with information that is accurate, relevant, and timely based on the buyer's needs and stages in their sales cycle.
Klenty is one such sales engagement platform that helps sales teams personalize their outreach based on intent, automate repetitive tasks and build an intelligent, repeatable sales strategy.
Humanizing customer journey
Gartner notes that "It takes 18 or more dials to connect with a prospect over the phone and call-back rates are below 1%." It applies to emails too. An average individual receives close to 129 emails per day. Emails are considered powerful tools to reach out to prospects, although 90% land in spam or ignored.
It is essential to make every interaction with the prospect memorable to build genuine relationships and trust. Personalizing communication using videos, using elements specific to prospects inside these videos can go a long way in making sales outreach a success for sales teams. It is precisely what Hippo Video and Klenty integration is trying to achieve.
Hippo Video integration with Klenty
Hippo Video's native integration with Klenty will allow Klenty users to seamlessly create, edit and share video emails right inside its platform. It will enable sales users to communicate face to face using asynchronous videos with prospects around the world.
This integration will benefit sales teams (big and small) that aim to enhance seller experience, improve sales presentations for prospects, and offer scalable personalized solutions to help deals move forward.
Integration features & how does it work?
Integrating Hippo Video & Klenty
Unlike other integrations, native integration makes Hippo Video the go-to video platform for Klenty's users to humanize their outreach with prospects. It would mean sales reps are not required to move out of Klenty's platform to enjoy the myriad of benefits and convenience that Hippo Video offers.
A noteworthy point here is the automatic account creation. An account gets created automatically inside Hippo Video for the user who accesses and runs the setup of Hippo Video inside Klenty for the first time.
With this, all the videos the user records are directly synced with the cloud server of Hippo Video and are easily accessible via the Hippo Video library inside Klenty.
Sending video emails to prospects
Klenty users can now instantly click and record videos inside their email editor, whether a sales pitch or a welcome onboard message. First-time video users can leverage the dynamic video teleprompter feature available on the recording screen that displays the pitch as scrolling text to make it seem natural helping them feel less self-conscious.
The integration allows users to perform basic editing functions like trimming the video, adding text, cropping, and blurring sensitive information on-screen inside Klenty. In addition, they can even hyper-personalize these emails using merge fields like prospect's first name or company name, branding elements to stand out from the inbox clutter.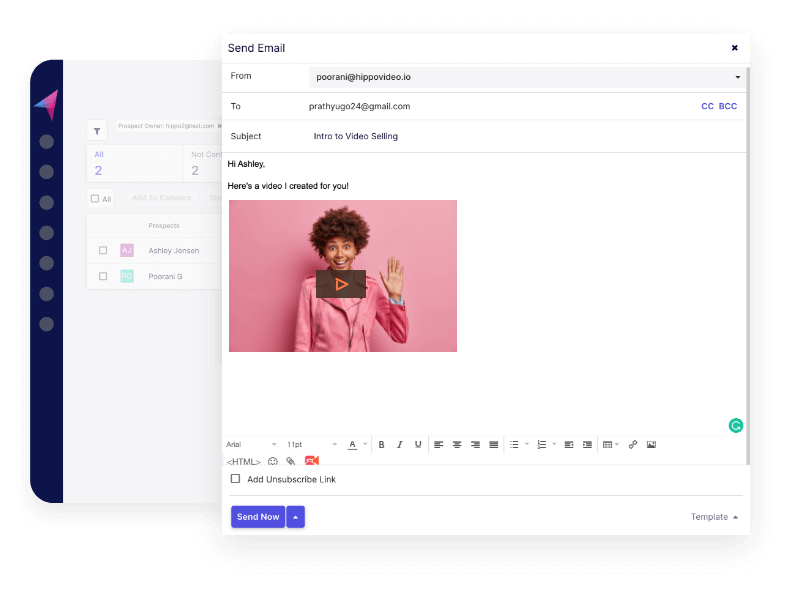 The list doesn't end here. Once a video is recorded, edited & ready to be sent out, users can add CTAs and calendar links inside the video. This allows prospects to book a meeting from the video without coming back to the email tab.
To woo prospects, sales teams rely heavily on personalization & other tactics, and Hippo Video makes this possible at scale.
Klenty users can embed their videos and sales pitches in video sales pages that are entirely customizable. It means they can white-label the page with their company logo, add other video & non-video assets as a carousel, personalize names that appear on the video, and add their contact details.
All of this can be done within minutes, without any coding, and just at the click of a button – exactly what users are looking for. They can create as many pages and customize them based on their use-case and sales cycle stage.
Once this is done, all that the rep has to do is select a page to embed the video they've just recorded and hit send.
Adding videos to cadences
Because sales engagement helps reach prospects at scale, automation becomes an inherent part of the sales process that could sometimes rob the element of warmth and personal connection that sales professionals are trying to build.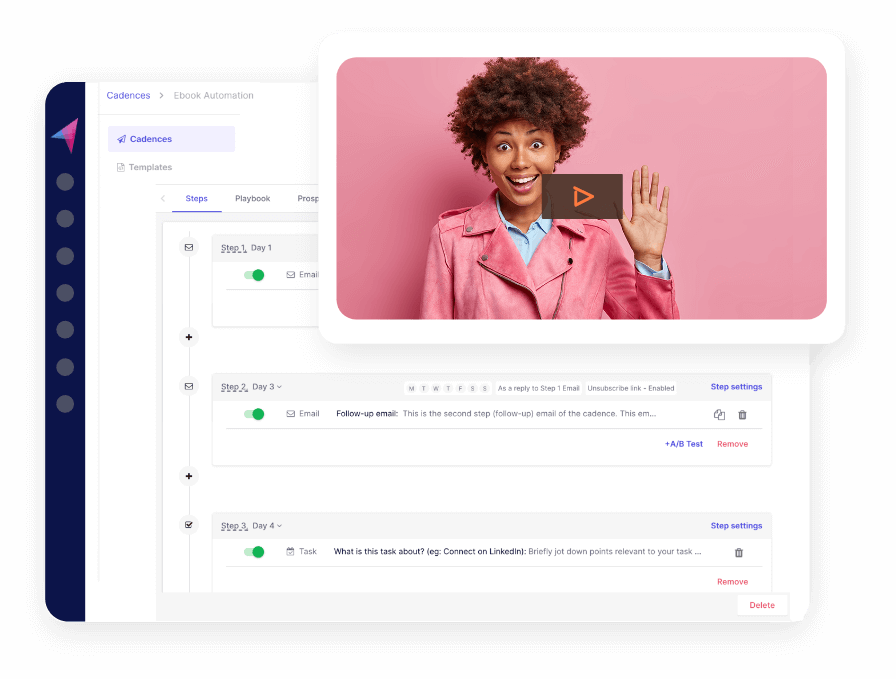 But with Hippo Video's native integration, Klenty users can also embed videos inside sequences. Hippo Videos' hyper-personalization capabilities allow sales teams to reach multiple prospects at scale, engage with them like never before, secure more responses & meetings, boost productivity while adding a human element to automation.
Real-time video activity & reports
Sales reps can plan and execute the next steps for the prospects, such as moving them to an entirely new sales sequence, qualifying them, or even scheduling tasks based on their interaction with videos sent, with the help of real-time video activity. Hippo Video notifies sales reps in real-time as and when prospects open, watch & interact with video emails along with the percentage of video watched, leaving no ambiguity in gauging whether or not a prospect is interested.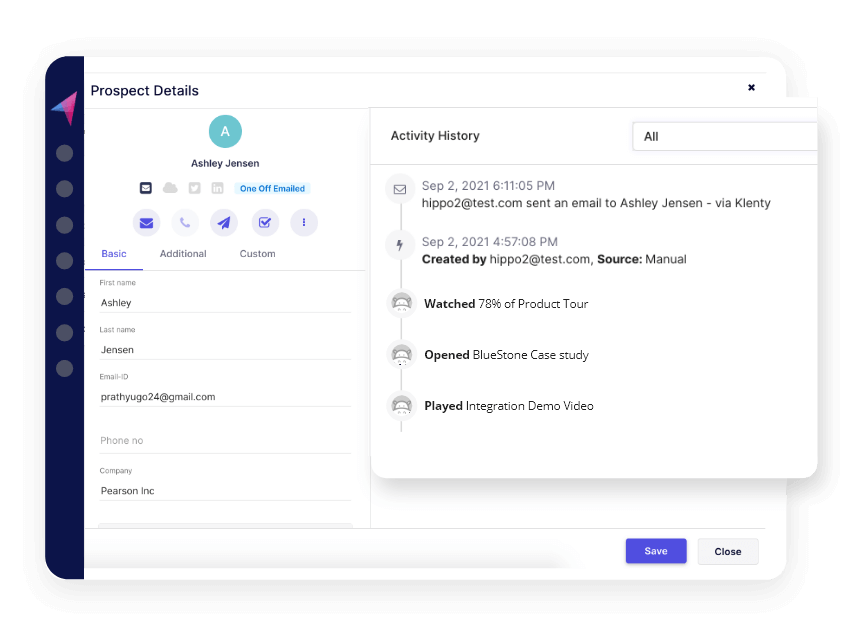 Comprehensive reports on overall video performance are also available for sales reps to measure the videos that are performing well and the ones that aren't. It greatly helps them understand buyer persona and optimize videos to execute better sales campaigns.

Conclusion
Personalized videos are becoming quickly popular among sales professionals, and sales engagement platforms are embarking on a trend to make the customer journey and experience frictionless.
Videos can be a great way to connect with prospects, especially when virtual selling is dominating the world. They bring the salespeople and buyers together and help ease the disconnect that could arise out of a lack of in-person interaction.
Sales engagement platforms cover a large periphery of mediums, and this integration will solve salespeople's problems to connect with prospects across channels and still get to monitor engagement from a single interface.
To install the Hippo video for Klenty – click here.