Get Started within 30 secs
Creating goodwill, accelerating a sale, or closing a deal … everything is possible if you could show the light of your 'customer first' norm to your prospect.
Maintaining this norm can be a daily grapple. One needs to listen, understand, and advocate the customer needs, which most of the time, dynamic.
This is where being customer-centric works as a secret sauce for your success.
Read on to learn how you can build and manage a customer-centric organization, leveraging the power of videos focused on your customer needs.
It is important for any organization to build a customer-centric culture to achieve customer success and prevent churn. This blog talks about how you can build a customer-centric organization with videos.
A customer-centric strategy is a win-win for your customers as well as your organization. If your customers are happy using your product, they will renew the subscription every year. They buy your other products and even advocate your product with their social circle. That is how your business succeeds.
Before we dive into how you can make your organization customer-centric. You should start by understanding customer value.
What is customer value?
We make buying decisions on a daily basis. From buying food for lunch, selecting a gift for our loved one to investing in Bitcoin. In every buying decision we make, we ask to ourselves, "Is it worth the time and money?"
The value we expect out of a product or service becomes the 'customer value'.
As an organization, you must be on the constant lookout to understand what your customers will value and keep delivering that.
Your customers run the show for you, generate ROI and take care of your employees financially. Conversely, your customers expect you to take care of their issues. You should make their lives easier, and resolve any showstoppers in their path to success. That is what customer centricity is all about.
Here is the main picture.
How can your organization achieve customer-centricity?
Put your customers at the center. Regardless of time or money, focus on creating customer value by putting your customers first.
When you put your customers first and understand what your customers value, you begin to collect a wealth of data. It can be used to define your own strategy pertaining to your business and enhance the customer experience.
You cannot pull off 'customer' success by being customer-centric alone. It can be achieved only by the coexistence of Customer Value, Customer Experience, and Customer Journey.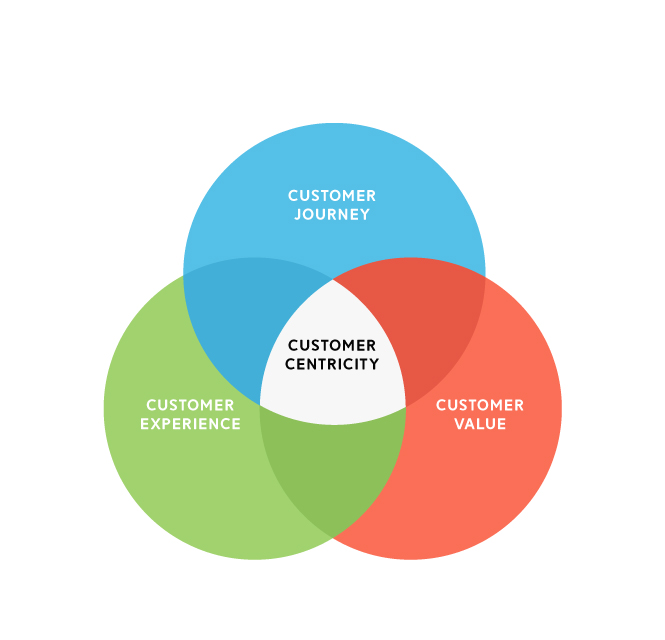 Be willing to come forward in offering a great customer experience. From the discovery stage, purchasing stage and through the post-sale customer experience in your customer journey lifecycle.
Research by Deloitte and Touche found that "customer-centric companies were 60% more profitable compared to companies that were not focused on the customer"
Proves it!
How to build a customer-centric approach?
[su_quote cite="Steve Jobs"]"You can't just ask customers what they want and then try to give that to them. By the time you get it built, they'll want something new"[/su_quote]
You can say that again!
Amazon has understood customer-centricity so well that they never stop to surprise us with its recurring product updates. From Kindle to FireTV to Echo, Amazon's products address customer's wants and needs.
Four best practices in building a customer-centric approach
Start by seeing the world through your customer's eyes.
Understand what customers want and use that data. Capture customer insights and share this across your organization.

Commit your organization to focus on what the customer wants. Develop products or services revolving around their needs.

Build relationships that are designed to maximize the customer's product and service experience.

Analyze, plan and implement a formulated

customer-centric operation

that focuses on reducing churn.
Design your customer-centric approach by providing a great customer experience.
Great customer experience begins with videos
To provide outstanding customer experience, you must focus on creating an emotional bond with your customers. Videos help just do that.
Video can be used in a variety of ways to deliver meaningful customer experiences.
For example, organizations can use video to:
According to a study by Gartner, 89% of businesses are expected to compete mainly on 'customer experience'. Organizations that take customer experience seriously will stand out from the competition and win customers over.
Empathy drives businesses forward
Sometimes you might feel your empathy slip, but remember that every customer you interact with is unique and important.
But how can you manage to empathize with every customer?
The solution isn't to be innovative with new resolution methods. Rather, to make the customer feel special by using one simple method: speaking with empathy.
Being able to align what they want to accomplish when they come to you is the key to customer empathy.
One cool tip to make empathy work for you is to use Videos!
Video has proven to deliver friendly support and empathy due to the human connection that's forged in video interactions.
[su_quote cite="Forbes"]In fact, adding video in email can boost click-through rates by 200-300% [/su_quote]
Now that you know what it takes to build a customer-centric organization. Focusing on customer centricity should bring you customer success. You can also help customers realize more value in your product. When there is no problem with your product, there is no reason for your customer to let go of you.
Being customer-centric is all that any organization needs to convert all the breaking moments in business as the making moments. Why wait? Go ahead and create a customer-centric organization. Pull off customer success.