Get Started within 30 secs
Customer is king! Customer satisfaction is the measure of how well a business delivers its service. Every single factor in a business depends on the customers.
It goes without saying that the only thing every customer would want is outstanding customer service, faster and better!
Research shows that "76% of the customers believe customer service is the best measure of how much a company values their business."
The usual ways of customer service and its challenges
Most companies understand the importance of high customer satisfaction but struggle to achieve the same. A customer support agent gives in all his efforts to deliver value and increase customer satisfaction.
Finding the right solution, decreasing first call resolution, and spending hours explaining the solution to a customer are a few of the struggles of a customer support agent.
Communication is the main issue to resolve problems quickly. Getting the necessary information from the customer in text format or a call is time-consuming. Also, no matter how much you attempt to provide the best customer experience, words and texts fall short of what you want to convey. All of this leads to increase in the resolution time which is not good for a business.
The solution
Whoever thought there is no right solution for building a superior customer service did not try creating videos for support.
As communicating through calls and emails is becoming tedious, companies are starting to use videos for support. Videos are a great way to demonstrate instructions or features.
This is why videos have already made its mark in the business industry. Using videos for customer support comes with a lot of advantages.
Did you know that customers prefer helping themselves rather than spending their time chatting or talking with a customer support person?
This is why companies should start using videos for customer support. There are a few areas of support where videos can be used.
Let's see how!
Personalized videos
No relationship is complete without a human connection.
Did you know that 55% of customers would pay extra to guarantee a better quality of service? Customers love it when you remember their names or address them personally. Personal interactions generate positive reviews and long-lasting customers. It also ends up with happy customers who talk about your product or service.
Now, how can you leverage videos to create that human touch?
You can engage your customers with personalized introductory and thank you videos. It doesn't stop there; you can also send interactive onboarding videos. Customers like it better when they see a face to the name.
Don't miss out on opportunities to engage with the customer, go that extra mile and make them happy with personalized videos and build a meaningful relationship.
Self-service videos
With companies coming up with complicated features sets, it is important to invest in a quality knowledge base. Create short product videos so that your customers can help themselves.
Video provides an invaluable opportunity for your support team to convey what exactly they want to as 65% of the population is visual learners.
Self-service video allows customers to solve issues on their own, allowing them to stop, start and pause the video to their convenience.
Therefore, Video-based customer self-service reduces the number of calls agents have to deal with, saving both time and money.
Explainer videos
Isn't it a challenge to explain a solution over a call/mail?
Not just that, explaining complicated workflows consume hours and hours of your time. Considering all the chaos around, you might hardly get any time to sit and explain workflows for hours together.
A customer may have trouble in an area that they are not familiar with. No matter how hard you try to explain the solution, they might fail to understand.
Let's say a customer has an issue optimizing their user settings. Record a video to show how to optimize these settings. Customers who value their privacy prefer this over remote sessions. Your customers can easily understand the solution looking at the video, and you can reduce the first call resolution time.
Video tickets
Imagine how much time you take to type out an issue. Articulating the problem in the right words is challenging.
Even though you try and find the right words, how sure are you that the customer support agent is going to understand it?
Every problem has a solution, and the answer to this is Videos.
You can give your customers the freedom to raise video tickets right inside support.
With video tickets, customer support agents can easily capture customer issues as they record. The best thing about videos tickets is that it saves you a lot of time and the agent can watch the video how many ever times he wants till he understands the issue.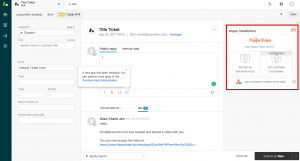 Video testimonials
Customer trust is the center of any business. One of the best ways to build your customers' trust is through video testimonials.
Customers feel the need to have some connection with an online business. Creating video testimonials is an effective way to leverage successful resolution. Add a human touch to your success stories by getting video testimonials.
Prospects are more likely to show interest and share videos than text-based content. Listening to reviews from real people who have used the product earlier makes so much sense than putting it in the form of text.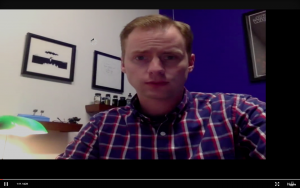 As you create video testimonials, you can ask your customers to talk about any specific feature or service that impresses them the most. This way, viewers are more likely to understand specific features of your product.
Also, a video testimonial reaches a broader set of an audience than a piece of text. You can also add these video testimonials to your website to make it more visually appealing.
Webinars
Webinars are a convenient way of presenting your business or giving a tutorial about a feature. Organizing a webinar builds credibility and creates a connection between attendees and the company.
Webinars are interactive and provide an opportunity for businesses to maintain close communication with customers. During webinars, customers can clarify whatever doubts they have regarding the product/service.
"A recent study says that between 20% and 40% of webinar attendees turned into qualified leads."
One of the best advantages of a webinar is that you can always save the session and share the video with your customers. You can also post them to your company's website.
Live Video Chat
In the recent days, video chat has become one of the most popular ways of communication between customers and customer support.
Most of you are familiar with Amazon's Mayday feature that with a click of a button lets you initiate a video chat with a customer support agent. Amazon reported that 75% of questions about the Kindle Fire HDX came through the Mayday Button.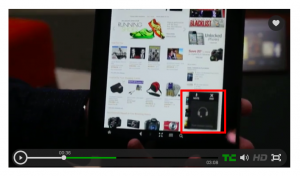 The freedom of letting your customers connect with you at the touch of a button is peerless. Being available to reach your customers easily all the time is one the things that make your brand stand out
Live video chat is quick, engaging and straightforward than any other medium of communication.
Now, how does all of this sound? Simple, right? Well, it not only does seem simple but it also can be implemented easily with Hippo Video. Hippo Video is an easy to use video tool that lets you create videos right inside support.
So, start using videos for support, engage your customers and show them you care! We would love to hear your success stories, let us know your experience with videos in the comments below.