Code of Ethics and Professional Conduct
If you see a violation of any of these values in the way we conduct business, please report it here.
The Code of Ethics and Professional Conduct applies to all of our employees, including temporary staff and part-time employees. We also recommend our partners to play by these set of standards so that they can delight their customers and build relationships for life.
Who are we as an Organisation ?
Mission: To enable businesses to engage and collaborate with their customers, employees & stakeholders through personalized videos
Vision: To be the defacto video platform for any business in enabling video workflows of sales, campaigns, marketing, support, success & collaboration
Our mission is to revolutionize the traditional Sales and Marketing processes with videos. We, as a company, firmly believe that personalized videos will continue to change the way content is marketed everywhere.
Hippo Video enables the marketing & sales teams around the globe to identify the right leads who are interested in knowing about their product with targeted videos and detailed reports of their video engagement.
Our Building Blocks - Code of Ethics
Hippo Video, at its core, is an organization which firmly believes in not only doing the right business but also the business right. We build trust and friendship with our customers and partners. We are competitive, passionate, and curious, but never unethical. We make sure that we never compromise our integrity to maximize our profits. These values are an integral part of our company and contribute to its amazing culture and every business decision we make.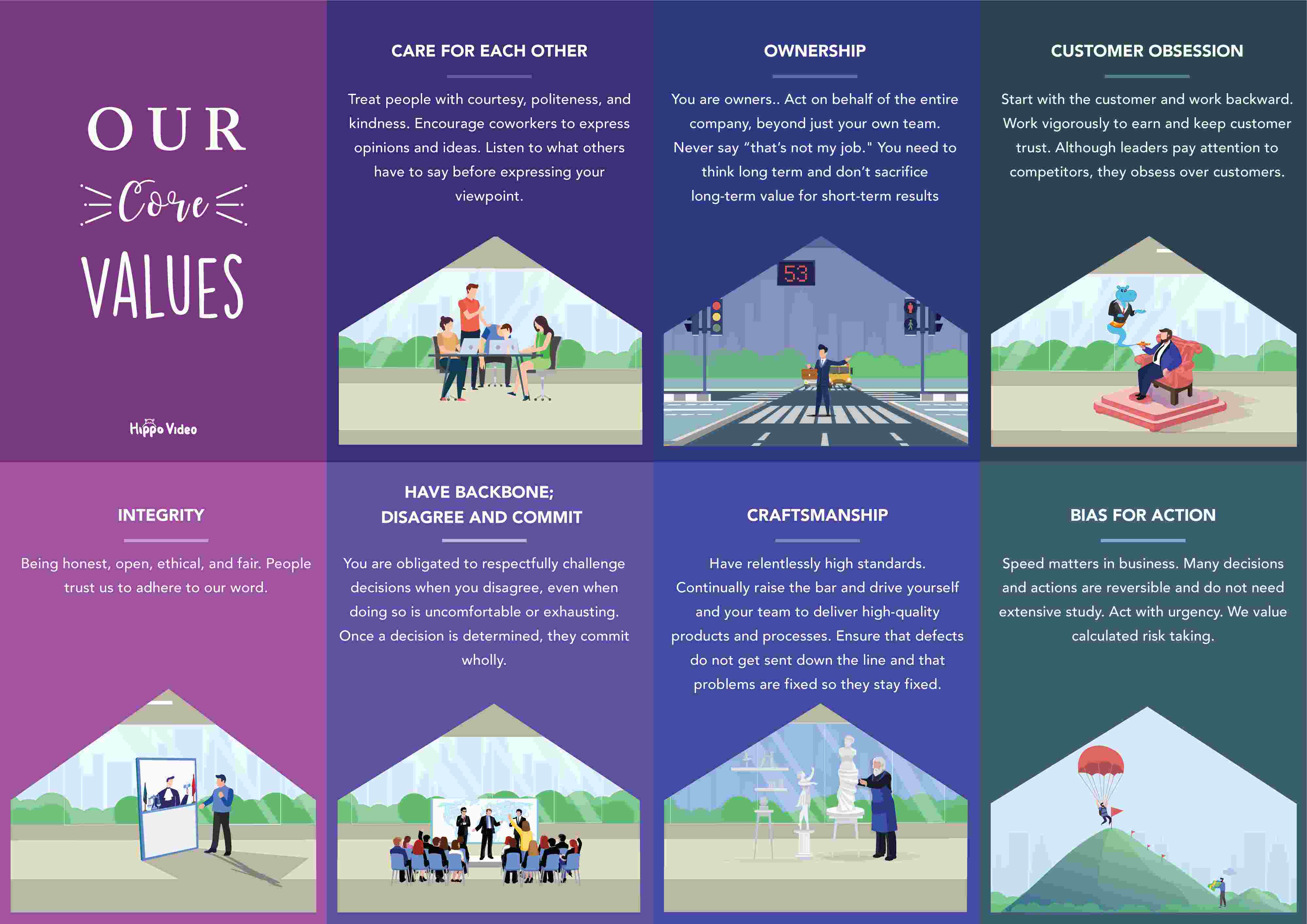 Our Guiding Light - Code of Professional Conduct
Though the world of SaaS knows us for the way we conduct business, we have set out these ethical principles for all our employees to follow. These standards act as illumination for our employees to maneuver their way out of tempting dark alleys. Our business standards are ingrown and mainly revolve around three main factors,
1. No profit, regardless of its size, is acceptable if the business is not conducted morally.
2. Equal opportunities are for everyone irrespective of gender, race, religion, and age.
3. Fair competition everywhere, and all anti-competitive practices are prohibited.

We can't define and predict all future situations, but we can help our employees in understanding how to act in a few foreseeable areas.
Conflict of Interest

Hippo video's reputation resonates with the behavior of our employees. Hence it's imperative that our employees do not engage in any activities that would serve their personal interests but affect our stature like investing in a competitor or getting into business with them.

Anti-Bribery or Corruption

Hippo Video is against all forms of bribery and corruption. Our company's integrity lies in the way we conduct ourselves in the business setting. We prohibit our employees from bribing to influence any individual or authority associated with our business.

Our employees are not permitted to receive any personal benefits or advantage other than from Hippo Video directly in the form of compensation or promotion.

Protection of company assets

Our employees are requested to act to protect the company's assets, including physical, electronic, digital, and intellectual properties.

Respect our Customers

At Hippo Video, we like to call ourselves "Customer Obsessed." We strive hard to deliver the best solutions to our customers all over the globe, and in the process, we make sure to treat all of them as unique and equal

Compliance with the Code

It is the personal responsibility of every employee to take time and understand the Code of Ethics and Professional Conduct and follow it with utmost commitment.